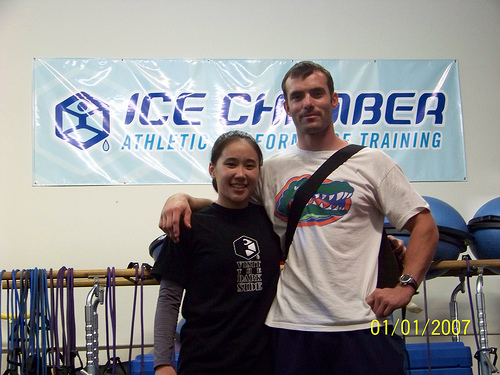 Ann and Ice Chamber Athletic Trainer, Thomas Henry, MS, CSCS
East Bay Judo Institute is please to announce that long time sponsor Ice Chamber Athletic Performance Training– located in Albany, CA has graciously agreed to provide elite athlete Ann Shiraishi, 2008 Olympic Alternate with an exclusive sponsorship for her supplemental training needs. Ann will be working with fellow EBJI team member, Thomas Henry to implement a unique strength and conditioning program to maximize her athletic potential.
Ice Chamber, owned and operated by Steven Khuong and Mayachela Garcia is a private fitness studio that specializes in combining effective coaching with a training style that is applicable in the real world. They have a unique approach which utilizes unique athletic equipment and synergistic total-body movement, which suits the needs of not only elite level athletes like Ann, but also has exciting programs for people of all fitness levels! For more information about Ice Chamber Athletic Performance Training please visit their website at www.icechamber.com
We at EBJI would like to thank Ice Chamber Athletic Performance Training, Steven Khuong, Mayachela Garcia and Thomas Henry for their generosity and welcome them to Ann's support team!