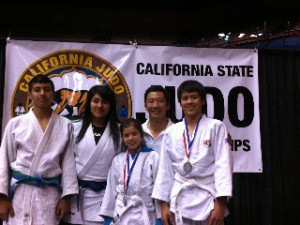 Four EBJI Members represented the dojo at the California State Championships this past weekend in Fresno, CA. Accompanying them were Ken Kokka Sensei.
Estefany Gonzalez went 2-2, finished tied for third but lost tie-breaker. She did give the first place finisher her only loss, by ippon.
Ashley Booth went 1-1, fighting up two weight classes (up from 28 to 34 kg),  finishing second.
Curtis Booth went 3-2, finishing in second. He lost twice to first place  finisher Myles Honda.
Nico Gonzalez went 1-2, finishing in third. He lost to eventual first and second  place winners.
All competitors now turn their attention to the USJF Junior Nationals where they will compete for a National Title July 4th weekend. Joining them will be Sato Matsumoto, Masa Matsumoto, Nathan Canadas and Cole Filson.