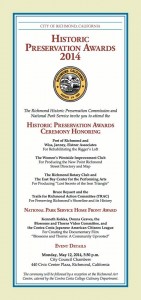 EBJI's Ken Kokka Sensei will be honored for the Home Front Award from the National Park Service on Monday May 12th for creating the documentary film "Blossoms and Thorns: A Community Uprooted".
The National Park Service Home Front Award is to recognize people, projects, programs or publications that preserve a home front site or structure, or that promote recognition and understanding of the World War II era in the nation's history.
The purpose of the city's historic awards program is to increase public awareness of Richmond's heritage by recognizing individuals, organizations, businesses and agencies whose contributions demonstrate outstanding commitment to excellence in historic preservation, local history or promotion of the city's heritage.
Ken Sensei's Blossoms and Thorns Documentary (created in 2012) reveals the contradictions between the  Japanese American residents who were forcibly removed from their homes and businesses in Richmond and sent to concentration camps for the duration of WWII by bringing Japanese Americans into the frame to tell their stories. 
Congratulations to Ken Sensei for this prestigious honor!
To view and interview with Ken Sensei in Discover Nikkei, visit this page