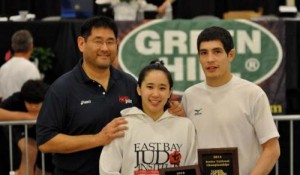 CONGRATULATIONS to EBJI Founder and Program Director David Matsumoto Sensei for recently being promoted to Hachidan (8th degree black belt) and for being inducted to the United States Judo Federation Hall of Fame!
The Hall of Fame aims to acknowledge outstanding judoka who have made major significant contributions to the sport of judo.
Matsumoto Sensei became the head instructor of EBJI in 1983 at the young age of 23. 38 years later he still gets on the mat weekly to practice with his family.
In addition to being a Class A referee, Team Leader for the 2000 Sydney Olympic Team and a coach for the 1996 Atlanta Olympic Team, he's personally coached and developed elite athletes like Sayaka Torra, Annie Shiraishi, Nate Torra, Jeff Fujimoto and Mike Eldred.
He has also written several judo books, was an official IJF – International Judo FederationResearcher and past Director of Development for USA Judo. He currently is the Chair of the Board of Examiners for Daiheigen Yudanshakai.
Despite his many, many accolades and contributions to the sport, Matsumoto Sensei's ultimate goal is for his students to develop their minds and characters, as well as their bodies, through training in Judo. He leads by example and is a role model to many.
Join us in congratulating him for these two amazing, well-deserved accomplishments!