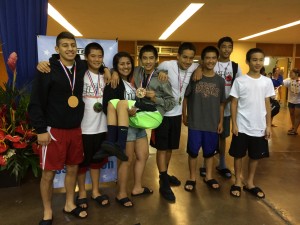 Eight EBJI Members (accompanied by Ken Kokka Sensei and Sayaka Torra Sensei) travelled to Honolulu, Hawaii over the 4th of July weekend this summer to participate in the USJF/USJA Junior, Youth and Team National Championships. This top junior event gathered over 1,000 competitors from around the nation to participate in a two day tournament.
The majority of our competitors competed on day 1 of the competition, including Nick Wood, Jason Wood, Masashi Matsumoto, Takashi Matsumoto, Satoshi Matsumoto, Yoshiki Castillo, and Nico Gonzalez.
Nick Wood led the way for EBJI with a gold medal in the Juvenile B, -81kg category at his junior national debut. Nick had a stellar day going 3-0. He won all his matches by ippon, including his final match for gold against a formidable Canadian opponent.
Takashi Matsumoto also had a great day, taking silver in the Intermediate 2, +52kg category. Takashi breezed through to the finals, winning all his matches by ippon. He was winning the gold medal match by yuko until he got caught for ippon and had to settle for a very respectable silver medal in his first junior nationals.
Nico Gonzalez and Masashi Matsumoto each brought home bronze medals to add to EBJI's medal count. Nico medaled in the Juvenile B, -66kg category where he faced tough competition from older, more experienced opponents. His route to the bronze included a first round comeback over a tough Japanese judoka where he showcased his stamina and newaza skills. Nico adds this Jr. National bronze medal to his gold medal he won in 2012.
Masashi took bronze in the Juvenile B, -50kg category at his second Junior National competition. En route to the final, he demonstrated his fighting spirit and will to win, throwing several of his opponents for ippon. Although he lost in the gold medal match, Masashi came back strong to compete for the silver medal. He lost a hard-fought match on a penalty in golden score. He adds this bronze medal to the silver medal he won in 2012.
Jason Wood, Satoshi Matsumoto and Yoshiki Castillo also competed on the first day of competition and gained valuable competition experience for the future. Jason went 4-2 and came one match short of the medal round. Satoshi and Yoshiki also showed great fighting spirit and proudly represented EBJI in their respective matches.
The second day of competition featured the older age divisions, along with the team tournament.
Nico Gonzalez competed in the older age group in the IJF, -66kg category. He won his first match by ippon but lost his subsequent matches eliminating him from the competition.
Estefany Gonzalez competed in the IJF, +78kg category and took home a bronze medal.
In the team tournament, Daiheigen Yudanshakai fielded both a male and female team that took silver and bronze, respectively. EBJI had three boys on the male team that included Nick Wood, Jason Wood and Taka Matsumoto. Estefany Gonzalez also represented EBJI and Daiheigen on the female team that won bronze.
All EBJI competitors showed great sportsmanship, work ethnic and tenacity. They trained hard for the 6 months prior to this competition and it showed in their stamina, technique, and most importantly, their fighting spirit.