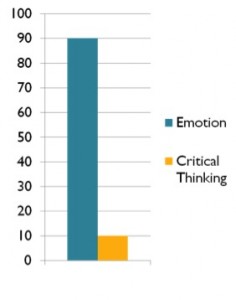 By Sayaka Torra, 2008 Olympian, EBJI Senior Instructor
Emotions are a part of everyday life; it doesn't matter who you are or your profession. It's how you control and regulate these emotions that determine your success in any given situation.
I know first-hand that being an Olympic Athlete is an extremely emotional experience. I've faced a lot of ups and downs during my competitive career and truly understand "the thrill of victory and the agony of defeat".
Some emotions and feelings are impossible to describe in words: how can you explain to someone the feeling of losing a crucial match in the last 10 seconds or walking into the Bird's Nest for the Opening Ceremonies of the 2008 Beijing Summer Olympics in front of 90,000 people all cheering for you?
As a result of my experiences, I have come to a profound conclusion: the most striking characteristic of being an elite athlete for me is that it is as much an emotional experience as it is a physical one.
I truly believe it is by controlling their emotions in appropriate contexts that athletes are capable of maintaining high levels of critical thinking and focus, regardless of what sport they are in.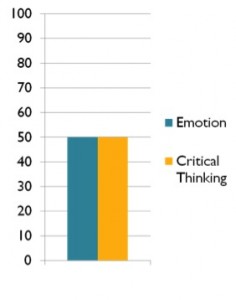 Research has suggested that when we are very emotional, our critical thinking abilities decrease dramatically. The ability to think critically is crucial to athletes in particular, who must stay incredibly focused during competition.
If athletes do not control their emotions, there are serious consequences. The more emotional they get, their ability to think critically decreases and they lose focus (See figure in Top Left)
An example of this loss of focus and control occurred at the 2006 Winter Olympic Games in Torino, Italy when snowboarder Lindsey Jacobellis made the crucial mistake of celebrating her win before the race was over. Jacobellis held a significant lead over Tanja Frieden of Switzerland for the whole run, until she performed a celebratory trick on the second to the last jump and fell. While Jacobellis struggled to get up, Frieden passed her, winning the gold medal, becoming Olympic Champion.
In a press conference after the event, Jacobellis admits she lost focus. She has been quoted in the Washington Post saying "I was having fun. Snowboarding is fun. I was ahead. I wanted to share my enthusiasm with the crowd. I messed up. Oh well, it happens."
Although being a silver medalist at the Olympics is an incredible feat, her momentary lapse of emotional control will surely haunt her forever.
Jacobellis's experience illustrates the fundamental necessity for athletes to control and regulate their emotions during competition.
How you control those emotions on the playing field is crucial to staying focused and to achieve the desired outcome of competitive success.
Here are some helpful tips on how to regulate your emotions for competition:
1) Practice visualization and meditation: take 5-10 minutes each day (perhaps before you go to bed) to empty your mind. I also practice qigong- it's a great way to center your mind and body. Here's a link to the qigong DVD I use
2) Get a good night's rest! Research has shown that insufficient sleep may contribute to the onset of emotional difficulties.
3) Eat right: a healthy cognitive system is essential to regulating mood, and certain nutrients have a profound impact on maintaining normal brain function. to date, researchers have studied the association between foods and the brain and identified nine nutrients that can combat depression and boost our mood: calcium, chromium, folate, iron, magnesium, omega-3 fatty acids, vitamin B6, vitamin B12, vitamin D, and zinc. Here's a link to the foods that contain those nutrients!
2) On competition day: get a good warm up. Breaking a good sweat before your first match often gets rid of a lot of pre-competition jitters.
3)  Have a solid game plan: know exactly what the strategy is going into each and every match. Having one will give you something to focus on instead of how nervous you are!
4)  When you step onto the mat: take 3-5 deep breaths, hold it, and exhale slowly to calm your nerves and lower your heart rate
5)  Let go: once you hear "hajime" your body is on autopilot. Relax, fight hard and enjoy the grind!