Greetings members, friends, and family of EBJI!
I imagine that most of these following posts will be short on text, but include photos of the progress. It's much easier to comprehend the progress being made by seeing the pictures rather than reading the description.  I did a walk-through at the end of the first week to take pictures. As expected, they're basically doing demolition at this point, but it's still impressive to see how much space is opening up! Without further ado, off to the pictures!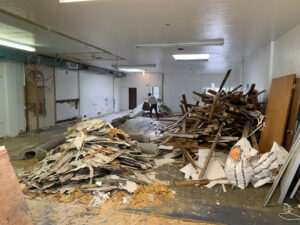 From the edge of the mat area. It looks like all the walls we're planning to remove have been demolished.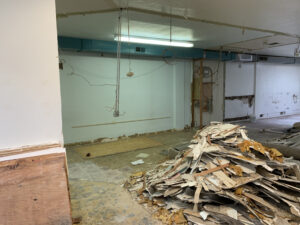 Same spot as the previous, but turned to view the new open space. If you look at the ceiling, you can see the outline of where the back office used to be. You can see the electrical stuff on the wall where the electrical room used to be. The circular light in the ceiling is the old bathroom light. That space is highlighting most of the increase in training area that we'll have.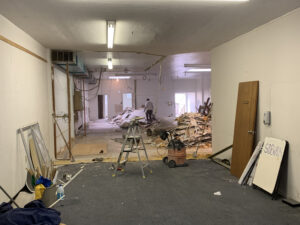 This is from inside the office. The back office, electrical room, and bathroom are gone. Again, if you notice the roundish light in the ceiling, that's where the bathroom used to be.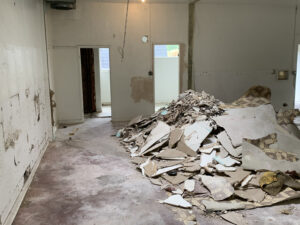 This is from the edge where the back office used to be. The space in the back where the 2 doorways are used to be the boys' changing room. (The left door was the closet, the right door the entryway). Looking at the line on the right side of the wall, if you make a rectangle where the opposite corner is the small protrusion on the left (near where the yellow crowbar is), that's the extra training area we'll be gaining on that side of the dojo.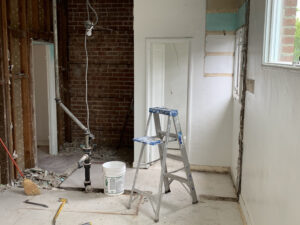 This is the back changing area. The bathroom is unchanged. The doorway on the left is the closet from the boys' changing room (the left doorway from prior picture), and you can see the appliances (sink, washing machine) are gone and the plumbing is exposed where the sink used to be. On the right, before the bathroom, you can see the lines on the floor denoting where the shelving and girls' changing room used to be.