Greeting to EBJI Members, families, and friends,
For more than 20 years now, we've been "planning" to remodel the dojo. It's always been sort of a pipe dream, until a few years back we finally got to the point that (through gifts, investments, and savings) we could afford to actually make it happen! Given that judo is a year-round activity, it's been exceedingly difficult to find the right time to do construction, especially given that it means at least 6 weeks of inability to be in the building. Well, we finally have permits in place, and given that we aren't permitted at this time to have training in the dojo, we've finally bitten the bullet and initiated the process!
Given that it's such a long time coming, I've decided to make periodic updates as to the progress of the remodel. This is my first installment, and my plan is to try to send an update weekly!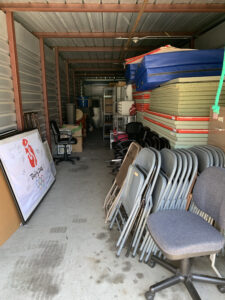 The first part of the remodel is unloading the dojo. We had to completely remove anything that we didn't want to keep. Unfortunately, over 30 years in the dojo has meant that we have a LOT of clutter, as well as even clutter left by the previous occupants (like the endless wiring for their phone system!).
Thanks to all the members who showed up to help out! We all met at the dojo on a Saturday and moved everything (well, everything we wanted to keep, we left a bunch of old, broken tables, chairs, etc.) to a storage facility.
It took us only a few hours to move everything, then the site was ready for the remodel!
Following is a picture of what our space looked like once we were all cleaned out!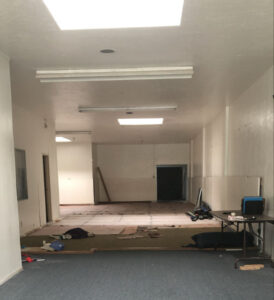 Lastly, the weekend before we began, I did one final walkthrough by video, which I have included below: