Greetings again members, friends, and family of EBJI!
We're 3 months into the remodel and progress continues. The walls are all up and almost completely covered. We can now see the shape we're going to have. We've been informed that we've been given the OK to finally finish the concrete pour (the open holes you'll see next to the walls in the pictures below), so I anticipate progress to continues. The best guess is that we're about 1 month out from completion.
Before running off to the pictures/video, I want to thank everybody who's donated to the tatami drive! We'll have a nice fresh dojo with all new tatami!  Thanks so much!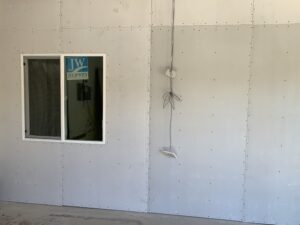 From the entry way, window into the new office, the walls are covered finally (new door is around corner), but not yet finished (I suppose that'll be one of the last things done)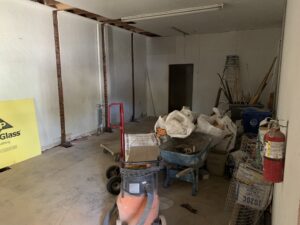 A peek into the office. Hard to get a good idea of the space given that there's still a lot of equipment in there, but you can see on the back wall that there's a doorway into what will be a storage space and on the right side, the wall is closed up (the bathroom is on the other side).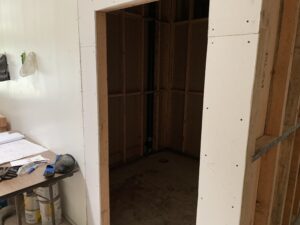 This is the entry into the new bathroom, which is next to the new training area.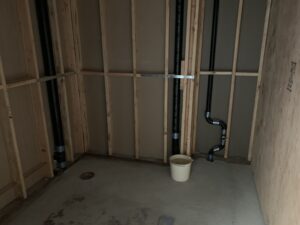 A peek into the new bathroom space. Obviously no fixtures yet, but should be plenty of space.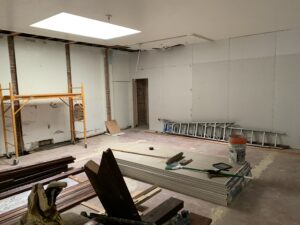 The training area. You can see in the far corner the doorway into what will be a small room for the heating appliance.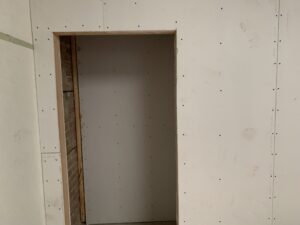 Closeup of the heating space. Again, no fixtures yet.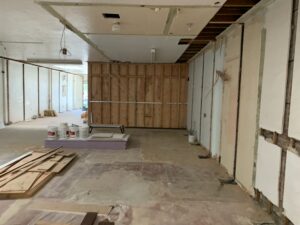 Far end of the training area, looking towards the front. You can see our old friend, the old bathroom light, as well as the outline of the old office, which will be our new, expanded training space.
Short video walking through the back area with the old bathroom, sink, etc. The new changing room was closed up because it was the "secure area" for the workers tools.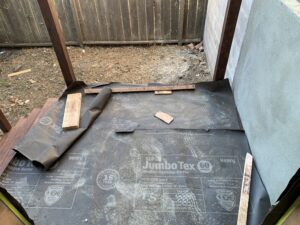 The back "porch". As we know, we've removed the old rickety porch and stairs. On the right (zoom the image), you can see the fire wall that's been added (to ensure that the bricks it protects won't burn….)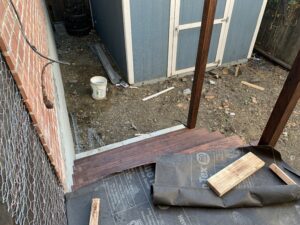 The new steps leading to the backyard space and storage shed.
Progress is ongoing! Hoping to see even more progress this week! Keep checking in, we're almost there!!