Greetings again to members, friends, and family of EBJI!
Here we are at the end of week 4 of our remodel! The demolition is pretty much done and we can see more of the preparation taking place. When I stopped by there were a couple of guys using a wheelbarrow to remove dirt from the building (presumably this dirt was pulled from the trenches that were dug for the earthquake structures?) and another guy toiling in the back yard (it was 100+ that day). It looks like most of the rebar has been applied and it looks like they are almost ready to start pouring the cement. Following are a few pics.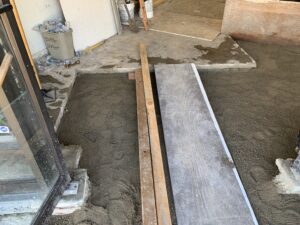 This is the front entry. As you can see, they are starting to reshape the entry to pour the cement, the entry will be more of a ramp to allow accessibility by wheelchair.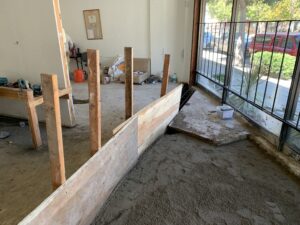 One step inside the door, turning right. It's the same sort of thing, they're prepping the area and setting the barriers so they can apply the cement.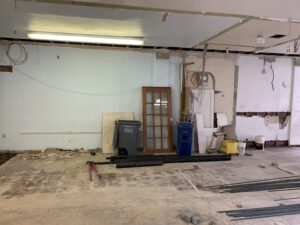 At the very edge of the training area is one of the trenches for the earthquake changes. You can see on the left here as I take a picture into where the office bathroom used to be (and our friend and measuring stick the old bathroom light is there in the upper right.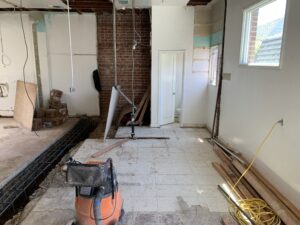 The back area, you can see the bathroom and windows on the right. You can see the rebar that has been applied to the trench on the left side.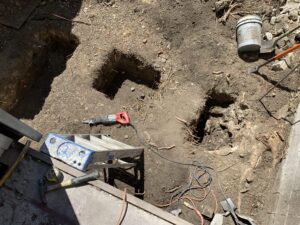 This is looking out the back door. There used to be a rickety set of stairs there down into the back yard. On the right is where the old tree used to be (which we removed a couple years ago), you can see the roots are huge and still in place, giving a lot of trouble to the guy who needs to dig the hole!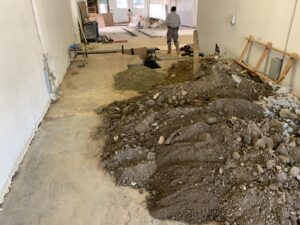 Looking into the office area from the front entryway, you can see how much more dirt has been excavated and needs to be removed.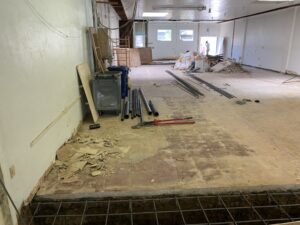 From the edge of the office looking into the space that will be the new expanded training area. You san see the rebar that has been applied to the trench.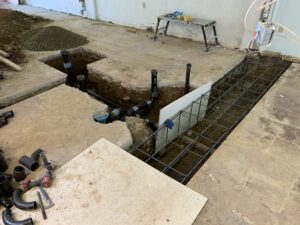 The other side of the trench from the previous picture. Not only can you see the rebar, but also the plumbing that's in place.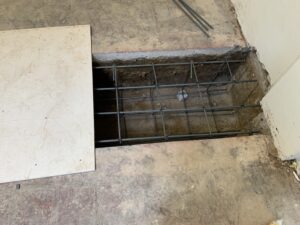 This is the middle trench (there are three, front, middle, and back) and we again see the rebar is already applied.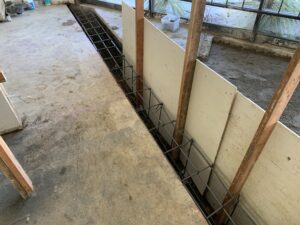 This is just inside the entryway where the door to the office used to be. Entryway to the dojo is on the right. Just showing that the rebar and barriers are in place.